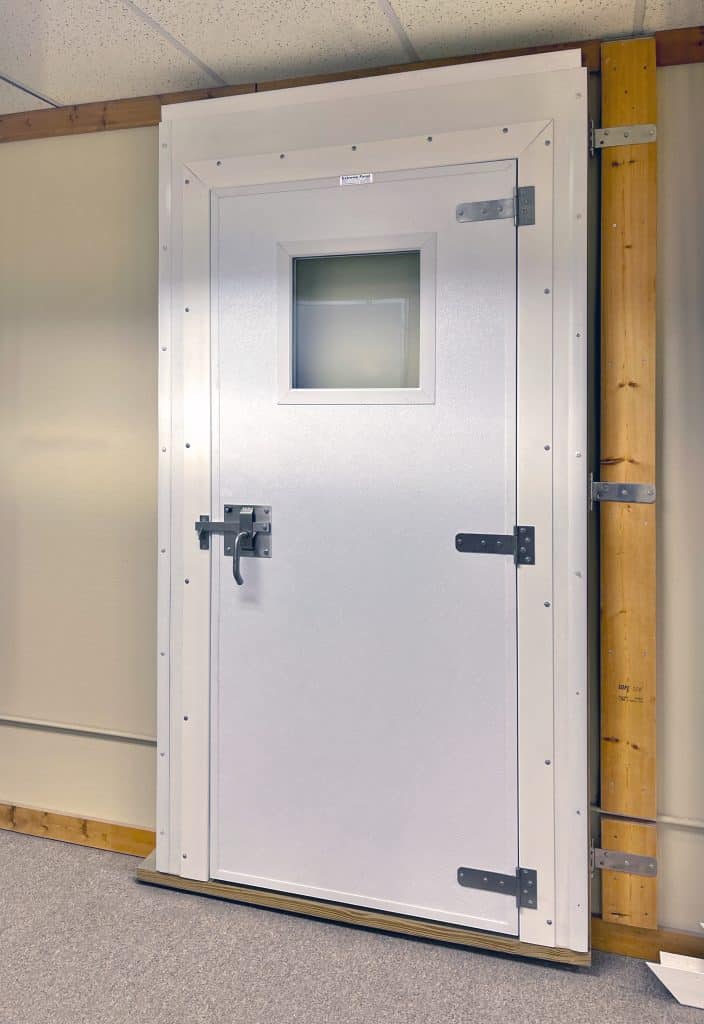 EXTREME STRENGTH & QUALITY​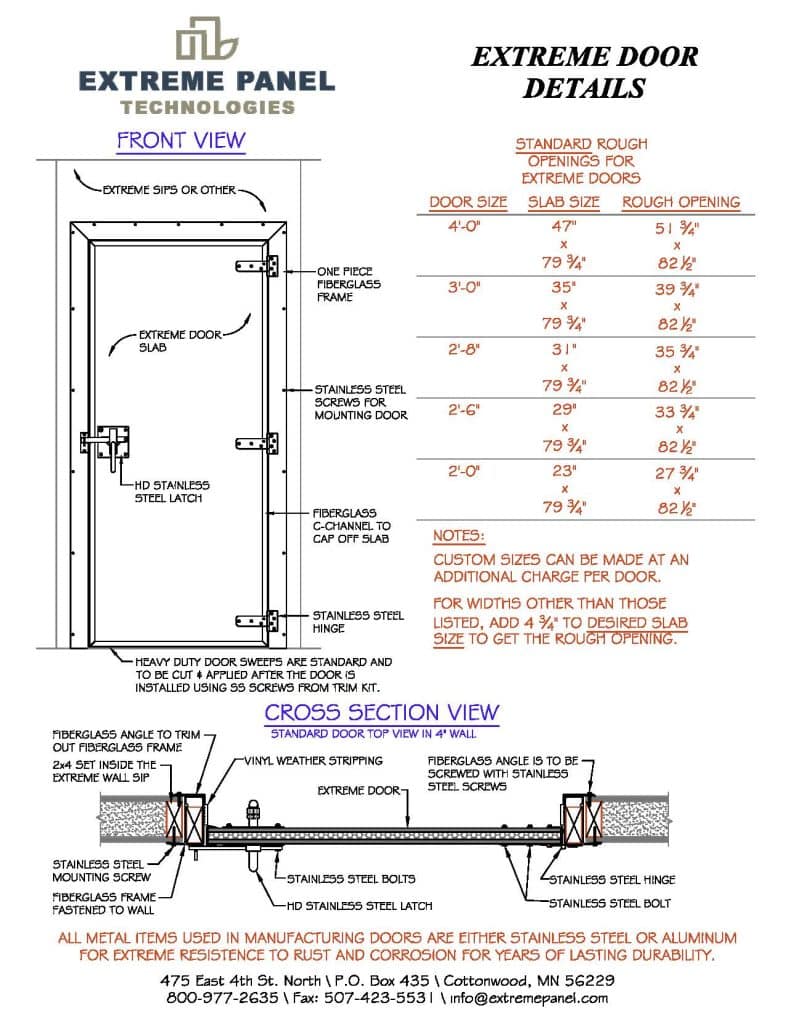 Leading the agricultural industry in durability, the Extreme Panel Heavy Duty Door has been developed from years of testing in the field and is proven to outperform all other doors in high moisture environments and heavy rugged traffic. View our Extreme Standard Door Details for standard rough openings & slab sizes.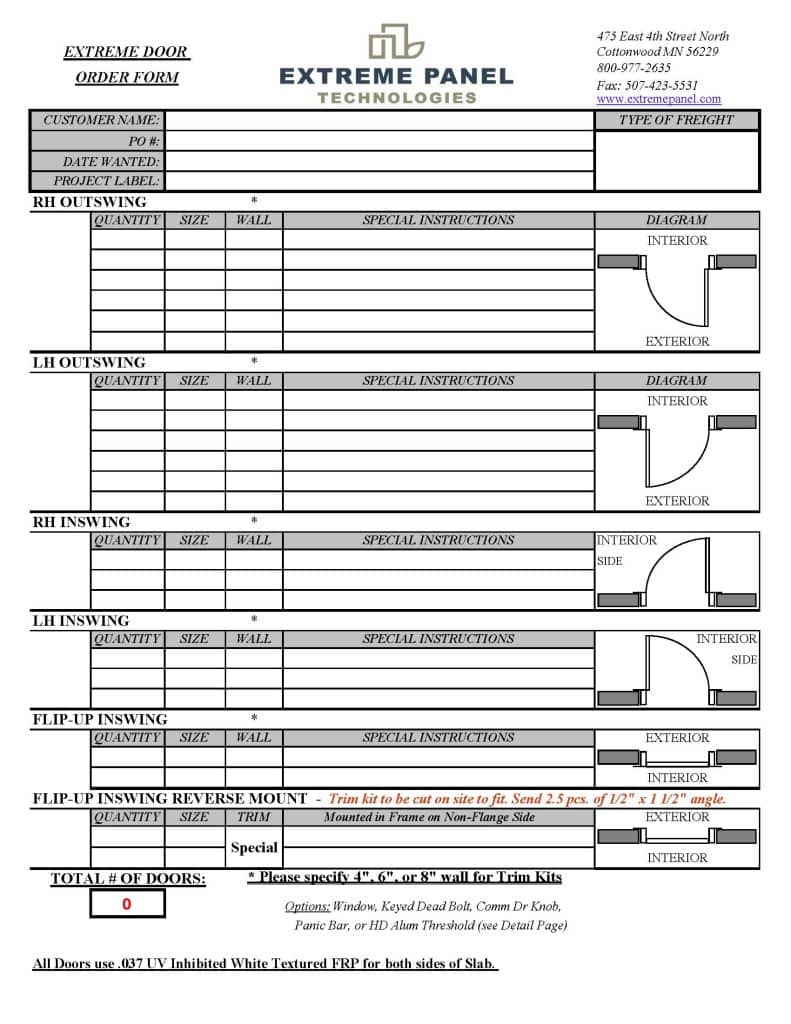 The Extreme Heavy Duty Door consists of NEW UV Inhibited White Textured FRP laminated to 3/8" plywood then pressed into a slab using a plastic honeycomb core material for strength & lightness.  This slab is then capped with a white vinyl C-Channel.
NEW UV Inhibited White Textured FRP allows door to be used for both Exterior & Interior locations.
NEW Heavy Duty Door Sweeps are standard!  Just trim to fit after door is installed using stainless steel screws supplied with trim kits.
Pre-hung in a pultruded fiberglass frame for fast and easy installation
Stainless steel hinges & fasteners are standard
Extreme's heavy duty stainless steel latch
Pre-cut fiberglass angled trim kits are supplied for 4″, 6″, or 8″ walls
Fully weather stripped
Standard sizes include: 2′ 0″,  2′ 6″,  2′ 8″,  3′ 0″,  4′ 0″, custom sizes available, double doors available
See details brochure below for standard R.O.s & slab sizes
16″ x 16″ Double Pane Window
Keyed Dead Bolt
Commercial Entry Door Knob
Commercial Panic Bar
Stainless Steel Security Hinges
Heavy Duty Aluminum Threshold
Commercial Door Closure

Efficient, Durable, & Dependable Door Solutions
Helpful Videos for an inside look at our heavy duty doors
Extreme's Top Hinged Flip-Up Door is designed to be used in any of your load-out areas and is constructed with the same strong slab and fiberglass frame as our Heavy Duty Door. The Flip-Up Door is simply hinged across the top and uses two heavy-duty stainless slide latches towards the bottom. This allows it to be easily pulled up and out of the way saving you time and possible damage due to the moving livestock. Available in our standard sizes or custom-made.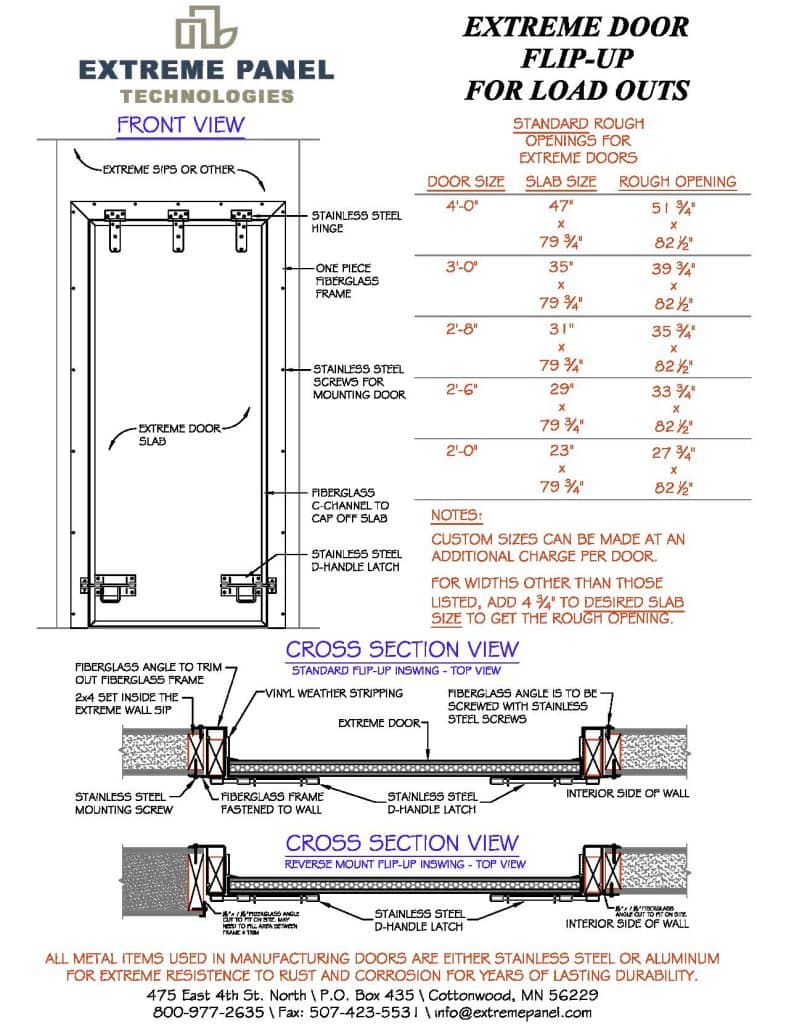 Extreme's Laminated Eave Doors are made of 3/4″ plywood laminated with UV Inhibited white textured FRP on both sides. High quality bird netting is stapled to the top side of the opening and stainless steel hinges and stainless steel snap latches are used. Our standard 12″ x 96″ eave door allows for 4.37 sq ft. of air opening, the 16″ x 96″ allows for 6.87 sq ft. of air opening & the 24″ x 96″ allows 11.56 sq ft. of air opening. Custom sizes can be made upon request.