Picture this: a home hidden away in the woods—its soaring roofline frames a contemporary interior that could be mistaken as a page ripped out of Cabin Living magazine. Its vaulted ceilings, a timeless architectural element, give rise to the illusion of a larger, airier living space.
So, what sort of building material is engineered to support this look and feel? Surprisingly enough, the answer is perhaps one of the most underappreciated elements of a home – structural insulated roof panels.
By incorporating strong, customizable structural insulated panels (SIPs) into a home's roofing system, architects and home designers can bring this, and other designs like it, to life. And because SIP roof panels can be manufactured to span up to 24 feet long and stretch 8 feet wide, designers are granted unencumbered architectural opportunities thanks to the reduction of necessary rafter-and-joist components.
Read along as we continue to explore other ways SIP roof panels enable design teams to dream big with their roofing plans.
SIP roofs present architects with unrestricted design possibilities
Typically, a home's roofing system is a labyrinth of rafter-and-joist components that interlock to bridge a home's ceiling space and provide support to a roof. However, with the use of 24 foot long SIP roof panels over traditional framing materials, significantly less structural support is needed within the building frame. For most applications, even far-reaching 24 foot SIPs only require the use of a ridge beam or an architectural truss to provide adequate support to panels.
With more unobstructed ceiling space allowed by the use of SIPs, designers can achieve a clean aesthetic and implement architectural elements such as high interior ceilings, windows that run from nearly floor to ceiling and usable loft spaces.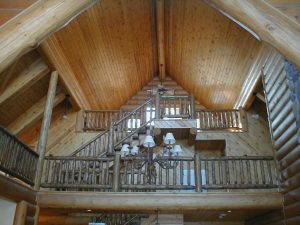 As for support, the dramatic span of a SIP roof panel is matched with equally superior compressive strength capabilities. Case-in-point, the form of a SIP behaves similarly to that of a steel I-beam. Its OSB skins act as the flange of the I-Beam, while the rigid foam core provides the web. This afforded strength allows the panels to act alone, without the need for a complex roof truss system.
SIP roofs not only provide design teams with the freedom to integrate architectural elements into the home's blueprint, but they also offer a domino effect of advantages down the road, from a streamlined construction process to a comfortable indoor environment for occupants.
For a stronger understanding of how SIP roof panels can support your specific build—contact our technical team at Extreme Panel Technologies.