Walls are impressive structures in their own right. Not only do these building blocks support roofs, floors and ceilings, but they also provide shelter, security and peace of mind to inhabitants.
Constructing a home with structural insulated panel (SIP) walls has many advantages. With SIP-framed attics, basements and beyond, homeowners benefit from efficient, healthy and comfortable interiors that are good for the wallet and general well-being.
1. Attics are more efficient with SIP walls and roofs
A properly insulated attic can shave 10 to 50% off monthly heating bills, notes The U.S. Department of Energy. Homeowners with SIP walls and roofs can see these savings immediately. The panels come pre-built with a core of expanded polystyrene (EPS) rigid foam insulation, which acts as a thermal barrier between the attic's interior and the outside air. This, in effect, keeps SIP houses cool in the summer and warm in the winter, as heat is prevented from rising up and out of the roof/ceiling.
2. SIP-walled basements are less leaky and moldy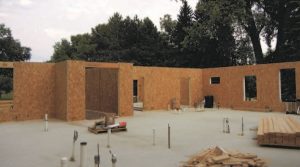 A SIP wall's EPS core also benefits basements. These ground-level and below-grade rooms can be responsible for 10 to 30% of a house's energy loss, but the stable, reliable SIP wall insulation helps prevent air from escaping.
Basements are also susceptible to moisture, since the laws of physics dictate that moisture is inclined to move from areas of high concentration (water-laden soil) to low concentration (basement). Fortunately, SIP walls' EPS insulation again saves the day, as its "closed-cell structure reduces the absorption and/or migration of moisture into the insulation material." What's more, testing in 2005 confirms that EPS is mold resistant, so you can say goodbye to damp, mildew-ridden basements with the SIP wall solution.
3. Living areas with SIP walls are more comfortable and healthier
With walls constructed of SIPs, the basement, attic and all other living areas become extremely airtight. EPS and OSB are air-impermeable, and SIPs can come in large sizes to cover a great surface area, decreasing the number of gaps where air can escape and thermal bridging can occur. Specifically, the Oak Ridge National Laboratory (ORNL) has determined that a SIP building is 15 times more airtight than a stick-framed home. For bedrooms, living rooms, dining rooms and more, the result is a cozier, more consistent environment, even in hot climates.
As an added bonus, SIP walls make it easier to install interior finishes. SIP's OSB sheathing provides a continuous attachment surface, removing the need for studs. Without having to be limited to expansions ending with studs, cabinet makers and carpenters have greater flexibility when designing cabinetry, moldings, flooring and other finishes to adorn a SIP-walled home.
4. SIP walls afford greater finish flexibility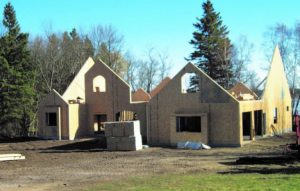 As with all well-built homes, a SIP-walled one requires mechanical ventilation, though this system can be much smaller than stick-framed systems thanks to fewer air leaks. The smaller system helps the HVAC system to ease off and increases overall efficiency for improved indoor air quality. With nearly 90% of our time spent indoors, it's important for the air we breathe to be as fresh as possible. Houses with tight SIP walls utilize their HVAC systems to circulate and purify the air, bringing in fewer pollutants and eliminating certain allergens.
Final word
Let's take it from a customer in Wisconsin who used SIP walls and has never looked back: "We love our house and we have no air coming in anywhere. We went (with SIPs) for the money savings on heat and air conditioning. The basement is also a very nice place, it is not damp and cold. As for the summer it is great to come home, open the door and feel the cool air. The temp of the house does not increase but maybe a couple of degrees during the day, always nice and comfy."