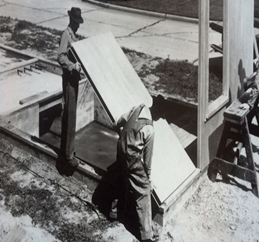 With 2020 well underway, many of the original homes built with structural insulated panels (SIPs) will be turning a whopping 90 this year! And at Extreme Panel Technologies, some of our SIPs homes will be ringing in the big 3-0. But what's to credit for SIPs' superior staying power? For one, the panels afford great strength and durability. When combined with proper moisture management, SIP homes can have homeowners covered for decades. From the bottom to the top, here's why SIPs continue to deliver durable homes.
Strong, durable SIP homes
A complete SIP home is structurally sound from the foundation all the way to the roof. Starting in the basement, a permanent wood foundation 5/8" FDN Grade Treated Plywood and 5/8" MCA Treated Plywood laminated to either side of expanded polystyrene (EPS) rigid foam insulation can offer higher strength and greater efficiency when compared with conventional framing methods. Plus, when these materials join forces, a properly treated plywood/EPS foundation won't crack, adding further integrity.
Next up is the walls. Contributing to a SIP home's total building envelope solution, SIP walls are so mighty that they don't require more framing or a skeleton for structural support.
On the roof, SIP's strength also comes into play. In fact, a SIP home is sturdy enough to bear exceptional load capacities of snow and other elements, without requiring an engineered truss system. Many homeowners opt for a SIP roof solution to extend and sustain their roof structure's lifetime.
SIP homes – managing moisture for buildings that withstand
To get the most out of a SIP home, properly sealing joints is key. Home builders can choose from specially designed SIP sealant and SIP tape to help mitigate moisture movements, while increasing durability. Preventing air infiltration can also stop moisture in its tracks. Since SIP homes are extremely airtight in comparison to stick-framed houses, utilizing these panels decreases the likelihood of a moisture invasion for longer-lasting buildings.
Bringing it home
SIP homes constructed in the 30s are still holding strong today, a testament to the power of combining OSB and EPS. Home builders can be proud of building with materials that last, and homeowners can nestle into SIP homes with one of the greatest comforts of all – the peace of mind that comes with knowing your strong, durable home can shelter your family now and well into the future.
Learn more about building homes with strong and true SIPs by checking out our FAQs.