Taking a cue from arguably everyone's favorite science show, MythBusters, we'll be busting the most common myths regarding structural insulated panel (SIP) construction in a three-part series – minus the beret. While we won't be conducting scientific experiments to dispel these widespread misconceptions, we will weave in facts based on nearly 30 years of experience, along with other industry leaders' and editors' knowledge of SIP technology.
Myth 1: The SIP construction method is brand new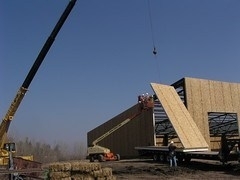 While Extreme Panel Technologies (EPT) has been manufacturing SIPs since 1992, SIP construction's origins go back much further. As Fine Homebuilding Associate Web Producer John Ross discovered, "Although they were new to me, SIPs were invented by the Forest Products Laboratory in the early 1930s. When [renowned architect] Frank Lloyd Wright used them in his innovative Usonian houses during the post-World War II building boom, they were poised to revolutionize residential construction."
Even though SIP construction didn't immediately take off as production stud, or "stick," framing became the norm, builders continue to recognize SIPs as a smart solution — especially in the context of the green building movement. The biggest hurdle for design/build professionals to overcome when building with SIPs is that the prefabricated panel process turns everything they know about stick framing on its head. After all, it's an entirely different enclosure paradigm, when compared with traditional building methods. So, while SIP construction isn't new, it's new to many designers, contractors and their crews. Certainly, change can be hard; but, considering all the advantages SIP construction affords, the case to take the plunge becomes all the more compelling.
In our next installments, we'll investigate how many people mistakenly believe that the costs associated with SIP construction are high and that using SIPs can result in wiring and plumbing issues. Join us on our quest for the truth, as we blow SIP construction myths out of the water.