At first glance, many people attribute structural insulated panels' (SIPs) growing popularity to their better overall air tightness and practical thermal performance than conventionally framed walls. But, that's only part of the story. The insulated wall panel trend ties into both the booming prefabricated construction industry and the movement towards healthier, greener lifestyles in residential design. Let's jump in and see four of the big reasons why insulated wall panels are catching on:
1. Insulated wall panels afford faster construction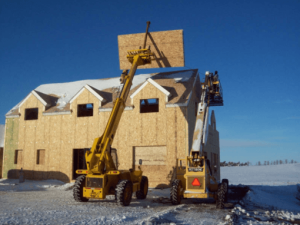 Through a heavily automated prefabrication process that takes place offsite, manufacturers craft insulated wall panels with precision and quality to exact specifications. This eliminates the tasks of cutting oriented strand board and insulation, and having to navigate complex angles on the jobsite. Importantly, the offsite construction approach saves time and frees up labor. As a third-party study conducted by Reed Construction Data/RSMeans shows, SIP homes reduce framing labor needs by as much as 55% compared with traditionally framed buildings.
Let's look at how these time savings play out on the jobsite. Upon delivery, the insulated wall panels are ready to be installed as-is – no need for additional operations of framing, insulating and sheathing. Thanks to the precision-forged square and straight walls and a continuous attachment surface, teams can also hang sheetrock, cabinets, windows and doors in no time at all. Impressively, insulated wall panels can be manufactured as big as 8- by 24-ft, which reduces dry-in time since workers can install entire wall sections in large segments. It's no wonder then that the above study found that "the SIP installation crew spent 130 fewer hours framing the exterior walls and roof of the home by eliminating many time-consuming steps from the construction process."
2. Reduce labor costs with insulated wall panels
For contractors concerned over the ever-present skilled labor shortage, SIPs for walls once again hold the answer. With prefabrication, there is minimal need for additional, complex framing. Straight and true insulated wall panels also mean there are fewer callbacks, no culling studs or need to straighten walls. Installation is so simplified that the process feels like putting together a life-size puzzle.
3. Insulated wall panels translate to fewer allergens and mold
As shared in our R-Values blog, "SIPs can be 15 times tighter than conventional construction." These sound insulated wall panels pave the way for a healthier living environment by restricting the flow of air into the interior. With the required addition of air handling equipment, any incoming air is easily filtered through and dehumidified. This filtration and dehumidification decrease the likelihood of mold growth, dust mites and other allergens.
4. Save on utility bills with insulated wall panels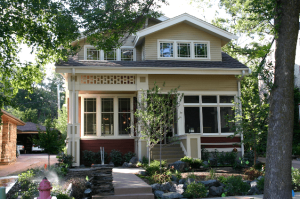 Along with breathing easier, SIPs can help businesses and homeowners save on the dreaded utility bill. Fun fact – buildings with insulated wall panels regularly save owners 50 to 60% on heating and cooling costs (and that's with smaller HVAC systems)! By covering greater surfaces with far less gaps and restricting the amount of air that flows through, SIPs for walls, as with roofs, expertly insulate structures, providing a great opportunity for energy conservation.
Whether a home or business owner, a contractor or construction professional, next time you hear the words "structural insulated panels," think (time) savings, (labor) savings and (energy) savings.